Hi everyone! Sorry about missing last week's Standalone Sunday, but things got a little busy around here. I also was in a bit of a blogging slump
but I'm fighting it!
Standalone Sunday is a weekly meme created by Megan @ Book Slayer Reads to feature books not part of a series that you've either read or want to read. It's super fun and easy to join in.
26 Kisses by Anna Michels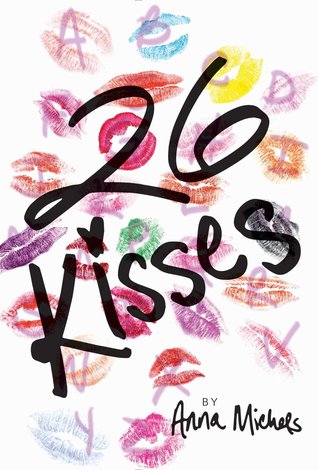 Kasie West meets Morgan Matson in this hilarious and heartwarming debut about a girl's summer mission to get over her ex-boyfriend by kissing her way through the alphabet.
Getting dumped by her boyfriend is not how Veda planned on starting her summer. When Mark makes it clear that it's over between them, Veda is heartbroken and humiliated—but, more importantly, she's inspired. So she sets out on the love quest of a lifetime: use the summer to forget about Mark, to move on, and move up. All she has to do is kiss twenty-six boys with twenty-six different names—one for each letter of the alphabet.
From the top of the Ferris wheel at her hometown carnival to the sandy dunes of Lake Michigan, Veda takes every opportunity she can to add kisses (and boys) to her list, and soon the break-up doesn't sting quite as much. But just when Veda thinks she has the whole kissing thing figured out, she meets someone who turns her world upside down.
I remember looking at this synopsis for the first time and buying the book after reading one line. No, it was one phrase. Can you guess which one? "Kasie West meets Morgan Matson". I think I died seeing that. This book is compared to my two favorite contemporary authors??????? I was sold. I just reread this book a couple weeks ago to fight a reading slump and honestly it is so much fun! Even though I'm against the whole premise of the book (really? kissing your way through the whole alphabet sounds like a healthy way to get over your ex?) Vee steals the show and makes the whole mess totally worth it. I loved her character development and the easy and natural development of her relationship with Killian. And even though Mel annoyed me a lot for being so oblivious to how Vee was feeling, she had her heart in the right place and I was so there for the Vee-Mel-Seth friendship. And the ending is one of the best contemporary endings I've ever read! Even though it's a romance book it ends with a message about self-love, in a hilarious way. Plus, this book has a good message about slut-shaming (i.e. don't do it it's a double standard).
And that's it for this week's Standalone Sunday! Let me know if you've read this book/like the synopsis/added it to your TBR! (Also, how adorable is that cover???)