Rating: Fire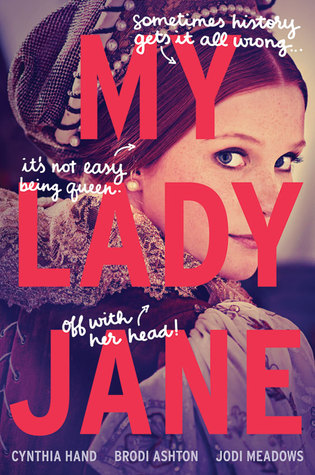 "Dedication

For everyone who knows there was enough room for Leonardo DiCaprio on that door.

And for England. We're really sorry for what we're about to do to your history."
Okay so I read this book so long ago and I'm just now writing the review! I remember I started (and finished it) on July 4th because I was at a barbecue at my pool and JUST COULD NOT PUT IT DOWN. I really wasn't planning on reading this book at all until there was so much hype in the community, and now I'm asking myself how I thought I wouldn't like this book. I LOVED it! It was everything I needed in life. And then I found out that it is part of a series where they are going to focus on other famous Janes and I screamed.
So this book is a historical retelling of Queen Jane, who was queen of England for all of nine days when her cousin King Edward is poisoned, I think. The history is more of a light framework for the story than a map, but it is still just amazing. But the three MARVELOUS authors added a bit of magic to the story, because, well, who doesn't like magic? It's also a love story between Jane and her husband, Gifford, who casually turns into a horse. It is such a unique story with lovable characters and a hilarious narration.
"Who on earth could feel comfortable enough to sleep in a room with no books?"
The most important fact to know about Jane: she is a bookworm! Even though she reads textbooks and we read more fun books, I think everyone here would relate to her love of books and treatment of them like her children. But there's even more to love about Jane. She is fiery and stubborn and strong and loving.
Then we get to Gifford. He's a horse. Not all the time, because that would be inconvenient, but only during the day. He and Edward both are slightly sexist in the traditional sixteenth century way, but it's written so comically and ridiculously that it can't be taken seriously.
"He pretended to stretch his arms, in order to shift even closer to her. (This isn't in the history books, of course, but we'd like to point out that this was the first time a young man had ever tried that particular arm-stretch move on a young woman. Edward was the inventor of the arm stretch, a tactic that teenage boys have been using for centuries.)"
And Edward. Oh Edward. He is just so clueless. Not in a damaging way, but in an innocent way. He legitimately just doesn't understand life outside of the palace, and I loved it. His narration was the funniest, because he was so thoroughly confused during most of it and simultaneously absurdly sure of himself.
The magic in this book was also delightful! Some special people can turn into animals, although not all of them have the ability to control it yet. But as you can imagine in conservative England, this leads to disputes between the people, which leads to political overthrows and you know the rest. Beheadings, poisonings, ruses, all the good stuff.
"When you came after me at the tavern, you nearly died." He looked wrecked at the memory. "You nearly died, and then who would I have argued with?"
"You'd have found someone."
"No." He stepped toward her. "I only want to argue with you."
And then the romances! It was so beautifully written. Even though Jane and G were already married so there wasn't much they could do if they didn't like each other, the DID! It was a slow burn (well, as slow as it could be when they are already together for the rest of their lives) and progressed so naturally. And notice I said romances PLURAL. Because there are two! Our dear sweet Edward finds a special someone as well, and his is just as funny. They have some more legitimate obstacles, but you're rooting for them just the same.
"'No horse jokes,' he said.
'My lord, I apologize for the horse joke. If you put down the book—unharmed!—I will give you a carrot.'
He brandished the book at her. 'Was that a horse joke?'
'Neigh.'
'Was that a horse joke?'"
So I kinda mentioned this already, but I have to mention it again: Three authors wrote this book, and it flowed so smoothly. I was impressed at how all three authors' voices could mesh together so well. I had only previously read books by Cynthia Hand, so I wasn't totally sure what to expect, and I was floored. This book is hilarious. Occasionally I chuckle while reading books, but rarely to I laugh out loud. Or snort. This book had me doing both. I was giggling along to myself the whole time.
Honestly, I'm not sure if this review shows how much I loved this book. It's pretty short because there is not much I can say about it, but if I can sum up the book in a couple words, it would be this: Hilarious, spunky, romantic. There was literally no faults. I just loved this book so incredibly much.