Review: Fire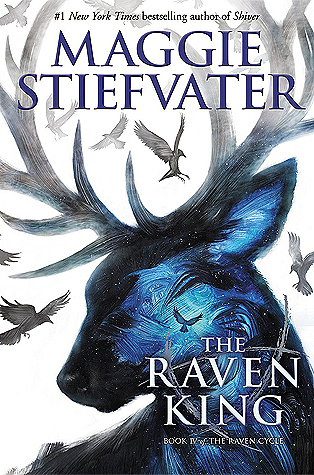 Ugh book reviews. The whole reason I started a blog. When I as on hiatus this was what I missed the most. I read books with the intention of writing a review, and that made me enjoy the whole reading experience so much more. 
When I thought about what book I was going to kick off my comeback reviews with, I decided The Raven King had to be it. One, I totally left everyone on a cliffhanger with my opinions since I took for-freaking-ever to pick this book up. And second, I LOVED IT SO MUCH SAKFNAOEIGAOSC. 
"All her life, Blue has been warned that she will cause her true love's death. She doesn't believe in true love and never thought this would be a problem, but as her life becomes caught up in the strange and sinister world of the Raven Boys, she's not so sure anymore."
WOW MAGGIE STEIFVATER. ARE YOU THE QUEEN OF GIVING AWAY ABSOLUTELY NOTHING IN YOUR BLURBS????
So this whole series has been about finding Glendower. Predictably this last book is about that too. But that would be too simple if that was all this book was about, and we know that The Raven Cycle is not even close to simple. I can't say too much without giving away the story, but this book was dark. Like fondue. And super twisted. Like licorice.* So I guess you could say this book was black licorice**.  There was the presence of true evil in this book and since it was the last book like a real possibility all our babies could die. I stopped breathing multiple times during this (some good, some bad) and I think I lived in a constant state of fear while reading.
*Not going to lie I like these food analogies. 
**Except for the fact that black licorice is super controversial and personally I don't love it but SHHH YOU GET THE POINT. 
One thing I would say is that some aspects of this were sooooo anticlimactic. Click on a a list of anticlimactic events for some spoilery opinions (thanks May for this handy dandy trick).
A list of anticlimactic events:

Blue and Gansey's kiss: Have we or have we NOT been waiting our entire lives for them to kiss?????? And did Maggie Stiefvater or did she not just cram it into two pages just for Gansey to die???? NOPE. I WANTED A CHAPTER. I WANTED A BOOK DEVOTED. I WANTED FIREWORKS AND LOVE DECLARATIONS AND A WHOLE WEDDING PARTY. I did not want means to an end. Am I still a little salty? Yes.
Finding Glendower: SO. GLENDOWER IS JUST A PILE OF BONES. AFTER ALL THIS. I WAS TOO INVESTED FOR THAT. NOPE.
The ending: Does not feel resolved to me at the slightest. Sure I was crying, but I expected some deep and large and beautiful wrap up.
And then we get to the ending. Was it an ending? Maybe it's Maggie's way of surprising us all with another book and making us all pee our pants?  It felt very inconclusive to me. To quote myself, "I think (?) it had a happy ending so that's good but it was a truly interesting ending". Which means: WTF just happened. It wasn't totally sad so I've decided it's going to be happy to save my already crumblingsanity.* Honestly this whole series has always been more about the characters than the plot to me (although the plot is SO existent) so I might as well just move on to that where maybe I can form more coherent thoughts.*
*This is why I avoid series I SERIOUSLY CANNOT TAKE THEM I GET TOO EMOTIONALLY INVESTED LIKE IT ISN'T REAL BUT TRY TELLING ME THAT.  
*I say 624 words in. It's fine I'm fine Everything's fine. 
EVERY SINGLE CHARACTER IS MY PRECIOUS BABY AND I THOUGHT MY HEART WOULD STOP FROM SO MUCH WORRYING ABOUT THEM. A quick summary of my thoughts:
Blue was as badass as always
Gansey was asdfghjkl
Ronan was ASDFGHJKL
Noah was heartbreak and sadness
Adam was surprisingly not bad
Henry was madness and confusion
Maura was not as present as I would have liked and that made me sad
The Women of 300 Fox Way also were not as present as I would have liked although we get a cute little origin story of the original trio and like that made me smile
Mr. Gray was SO CUTE how can I describe a hired hit man as cute??? Idk I just can man
Piper was bleh but with an angry tone behind it because even though she was bland she kept messing everything up
Declan actually tugged at my heart which was unexpected like I thought he was a monster because #TeamRonan but MAYBE I can be on both teams like they aren't mutually exclusive how #modern of me.
Legitimately cannot remember their names but those three evil people with the same name were also slightly less bleh than Piper and also slightly less angry of a tone behind it.
Wow Sydney how eloquent of you. 
And now prepare for some gushing.
I JUST LIVE FOR THE WHOLE RAVEN BOYS SQUAD. Blue and Ronan and Gansey and Adam and Noah. They make my heart melt and make me so incredibly happy. I honestly try to pick a favorite and I can't because as soon as I say Ronan any of them I feel bad for leaving out Gansey the others. Because I actually love them all! Yes, even Adam! He definitely isn't my favorite out of all the characters but the days of me ranting about how annoying and proud and stubborn he is is over. There's actually this super cute part where he realizes that just because his friends want to give to him doesn't;t mean they are taking pity on him, it's just the nature of friends to want to help when they can, and I was like ADAM THIS IS WHAT I'VE BEEN SAYING TO YOU THE WHOLE TIME but you know I'm glad someone finally got through to him. Noah made me so incredibly sad though. I understand his story resolution, but that doesn't mean I can be happy about it. Even though I suspected that was what had to happen, I still held out hope for a better ending for him because he has always been Blue's special friend and the sweet one and the funny one and so deserving of so much more. My love for Ronan and Gansey only grew during this book. Probably just because I love their friendship SO FREAKING MUCH.* Ronan actually broke my heart. Writing this right now is making me cry. And the sacrifices these boys make for each other *breaks down into ugly tears*.
*Sidenote: Give me more good bromance books. PLEASE.
Ugh. But let me get to the one character I did NOT love with all my heart. Mr. Henry Cheng. He just waltzes in there and all of a sudden he's Gansey's best friend???? I say NO. RONAN HAS BEEN BY YOUR SIDE FOR SO MUCH MORE GANSEY. HENRY DOESN'T JUST GET ALL OF YOUR RESPECT NOW. There were scenes where Gansey would actively choose Henry over Ronan and you could catch me fuming. Oh, just because he understands you during one time slipping moment and tells you his deepest darkest secrets he gets to be a part of the search for Glendower so easily??? It's not like I hate Henry. If he weren't surrounded by the sweetest cinnamon buns I have ever met he probably would be pretty likable: he's got that whole vulnerability loner bit going on that I usually like, the whole loyalty aspect of him, a little freaked out. But his friendship came too easily, so I don't like it. 
OH SHOOT I HAVE TO MENTION CABESWATER. Just be prepared. That's all I'm going to say.
Not going to say much here except SHIPS HAVE SAILED. THEY'VE GOT THEIR SAILS UP AND THEIR OARS ROWING AND ARE ON THEIR WAY TO THE NEW WOLRD BECAUSE THEY HAVE SAILED.
Something that continuously kills me about this series is the writing. It is beautiful. There's something so haunting and beautiful about Maggie Stiefvater's words that fit this series so perfectly. And there's this whole theme of circularity which tbh I can never actually wrap my head around but I LIKE THE IDEA OF IT. And there's all this foreshadowing and JUST THE FACT THAT SHE CAN KEEP ME ON THE EDGE OF MY SEAT FOR FOUR FREAKING BOOKS IS A TESTAMENT TO HER WRITING ABILITY. 
I'm just gonna drop a couple of my favorite quotes down below because you know me and you know I love quotes and this woman is seriously quotable.
"He was a book, and he was holding his final pages, and he wanted to get to the end to find out how it went, and he didn't want it to be over."
"Adam smiled cheerily. Ronan would start wars and burn cities for that true smile, elastic and amiable."

I don't know how I'm still alive because my heart is goo and that means nothing is pumping my blood so really I only have minutes left to live after reading this quote.

"What a strange constellation they all were."

I JUST LOVE THIS BECAUSE THEY ARE ALL STARS

"How do I know I love her? Because I can sleep after I talk to her."
"If you can't be unafraid, Henry said, be afraid and happy."

I mean I guess Henry can be allowed ONE good thing.

"It was just that there was something newly powerful about this assembled family in the car. They were all growing up and into each other like trees striving together for the sun."

BECAUSE I WILL NEVER GET ENOUGH OF THE SQUAD.

"On the outside, the three Lynch brothers appeared remarkably dissimilar: Declan, a butter-smooth politician; Ronan, a bull in a china-shop world; Matthew, a sunlit child. On the inside, the Lynch brothers were remarkably similar: They all loved cars, themselves, and each other."

Maybe one of my favorite unexpected plot arcs.
Okay I'll let you go free quote wise because I could just quote the entire book but I'll leave you to discover your own favorite quotes.
In case you couldn't tell from this complete gush of a review, this was easily my favorite book of the series. I'm still in a bit of denial that it's over, but do yourself a favor and read it.
What was your favorite book in The Raven Cycle? Who was your favorite character? What do you think about the ending? I heard there was like a spinoff Ronan series coming out and can someone confirm this?