Woo hoo! New year new books amiright???? Even though we're already a month into 2018, it's basicallyyyy the beginning of 2018 and therefore I will draw out the use of new year material.
There are actually so many good books coming out this year that I am SO excited for. It was hard to choose just ten books, but I did it. Someone get me a cookie. 
Also I recently reorganized my Goodreads and did some handy dandy shelves saying what year the books were published. But I did it before I knew I was going to write this post so I must be psychic. Just saying.
AND because I'm #technological if you click on the book cover it takes you to their Goodreads page! So after I finish hyping up all the books I am so so excited for and you agree with me because I'm just so compelling, you can easily add it to your Goodreads shelves. 
And without further ado…
1. You'll Miss Me When I'm Gone
Author: Rachel Lynn Solomon
Release Date: January 2nd
Eighteen-year-old twins Adina and Tovah have little in common besides their ambitious nature. Viola prodigy Adina yearns to become a soloist—and to convince her music teacher he wants her the way she wants him. Overachiever Tovah awaits her acceptance to Johns Hopkins, the first step on her path toward med school and a career as a surgeon.

But one thing could wreck their carefully planned futures: a genetic test for Huntington's, a rare degenerative disease that slowly steals control of the body and mind. It's turned their Israeli mother into a near stranger and fractured the sisters' own bond in ways they'll never admit. While Tovah finds comfort in their Jewish religion, Adina rebels against its rules.

When the results come in, one twin tests negative for Huntington's. The other tests positive.

These opposite outcomes push them farther apart as they wrestle with guilt, betrayal, and the unexpected thrill of first love. How can they repair their relationship, and is it even worth saving?

From debut author Rachel Lynn Solomon comes a luminous, heartbreaking tale of life, death, and the fragile bond between sisters.
So ignore the fact that this was already released. Let's pretend it is January 1 and this is a timely post. I'm not sure if words can describe the level of excitement I have for this novel. IT'S JEWISH. I am Jewish. I love Judaism. And I also can't think of the last book I read where the main character was openly Jewish and proud and connected to their Judaism. *
*Actually, it was Rebecca from the American Girl Doll series but she's not YA and doesn't prove my point and also I read that when I was like eight.
Also, it's a book about sister relationships and I am a SUCKER for the types of books where they fight and then come together again and cue the waterworks.
Author: Kester Grant
Release Date: 2018
A diverse fantasy reimagining of Les Misérables and The Jungle Book.

In the dark days following a failed French Revolution, in the violent jungle of an alternate 1828 Paris, young cat-burglar Eponine (Nina) Thenardier goes head to head with merciless royalty, and the lords of the city's criminal underworld to save the life of her adopted sister Cosette (Ettie).

Her vow will take her from the city's dark underbelly, through a dawning revolution, to the very heart of the glittering court of Louis XVII, where she must make an impossible choice between guild, blood, betrayal and war.
*This is currently without a cover so click on the title for the link.
I'm sorry. You had me at LES MIS. Just a quick background: my friends are OBSESSED with Les Mis. Even though I have only seen it once, I have been trained to be obsessed with it as well. Also reimaginings are my LOVE.
3. See All the Stars
Author: Kit Frick
Release Date: August 14th
It's hard to find the truth beneath the lies you tell yourself.

THEN They were four—Bex, Jenni, Ellory, Ret. (Venus. Earth. Moon. Sun.) Electric, headstrong young women; Ellory's whole solar system.

NOW Ellory is alone, her once inseparable group of friends torn apart by secrets, deception, and a shocking incident that changed their lives forever.

THEN Lazy summer days. A party. A beautiful boy. Ellory met Matthias and fell into the beginning of a spectacular, bright love.

NOW Ellory returns to Pine Brook to navigate senior year after a two-month suspension and summer away—no boyfriend, no friends. No going back. Tormented by some and sought out by others, troubled by a mysterious note-writer who won't let Ellory forget, and consumed by guilt over her not entirely innocent role in everything and everyone she's lost, Ellory finds that even in the present, the past is everywhere.

The path forward isn't a straight line. And moving on will mean sorting the truth from the lies—the lies Ellory has been telling herself.
Okay, again, sucker for estrangement stories. And this got me hooked on LIES and SECRETS and the whole then and now format. You know what I hope this story is? I hope it is told half in the past half in the future with those alternating chapter things. I LOVE those. Also, this sounds Gossip Girl esque and I love Gossip Girl.
4. Love, Hate, & Other Filters
Author: Samira Ahmed
Release Date: January 16th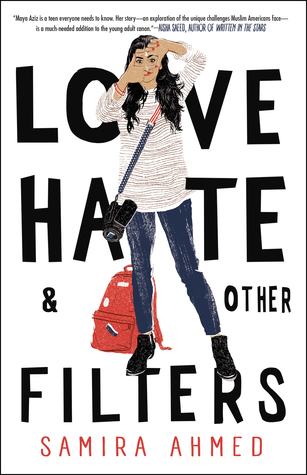 A searing #OwnVoices coming-of-age debut in which an Indian-American Muslim teen confronts Islamophobia and a reality she can neither explain nor escape–perfect for fans of Angie Thomas, Jacqueline Woodson, and Adam Silvera.

American-born seventeen-year-old Maya Aziz is torn between worlds. There's the proper one her parents expect for their good Indian daughter: attending a college close to their suburban Chicago home, and being paired off with an older Muslim boy her mom deems "suitable." And then there is the world of her dreams: going to film school and living in New York City—and maybe (just maybe) pursuing a boy she's known from afar since grade school, a boy who's finally falling into her orbit at school.

There's also the real world, beyond Maya's control. In the aftermath of a horrific crime perpetrated hundreds of miles away, her life is turned upside down. The community she's known since birth becomes unrecognizable; neighbors and classmates alike are consumed with fear, bigotry, and hatred. Ultimately, Maya must find the strength within to determine where she truly belongs.
I feel like this one doesn't even an explanation. The level of hype it has been getting from the blogosphere is insane. Even without the hype though I would have picked it up, it sounds very current and timely and books like this that are super important and relevant are ALWAYS good to read.
5. Unearthed
Author: Amie Kaufman and Meagan Spooner
Release Date: January 9th
When Earth intercepts a message from a long-extinct alien race, it seems like the solution the planet has been waiting for. The Undying's advanced technology has the potential to undo environmental damage and turn lives around, and Gaia, their former home planet, is a treasure trove waiting to be uncovered.

For Jules Addison and his fellow scholars, the discovery of an alien culture offers unprecedented opportunity for study… as long as scavengers like Amelia Radcliffe don't loot everything first. Mia and Jules' different reasons for smuggling themselves onto Gaia put them immediately at odds, but after escaping a dangerous confrontation with other scavvers, they form a fragile alliance.

In order to penetrate the Undying temple and reach the tech and information hidden within, the two must decode the ancient race's secrets and survive their traps. But the more they learn about the Undying, the more their presence in the temple seems to be part of a grand design that could spell the end of the human race…
If you've been following my blog for a while then this also doesn't need much of an explanation. The Starbound Trilogy is one of my FAVORITE series that have some of my FAVORITE books and FAVORITE characters and I really, truly am obsessed with them. And this is by the same authors. Truthfully, I didn't even read the synopsis, just added it to my list because of them, but the synopsis sounds like classic Amie Kaufman and I LOVE classic Amie Kaufman.
6. Save the Date
Author: Morgan Matson
Release Date: June 5th
Charlie Grant's older sister is getting married this weekend at their family home, and Charlie can't wait—for the first time in years, all four of her older siblings will be under one roof. Charlie is desperate for one last perfect weekend, before the house is sold and everything changes. The house will be filled with jokes and games and laughs again. Making decisions about things like what college to attend and reuniting with longstanding crush Jesse Foster—all that can wait. She wants to focus on making the weekend perfect.

The only problem? The weekend is shaping up to be an absolute disaster.

There's the unexpected dog with a penchant for howling, house alarm that won't stop going off, and a papergirl with a grudge.

There are the relatives who aren't speaking, the (awful) girl her favorite brother brought home unannounced, and a missing tuxedo.

Not to mention the neighbor who seems to be bent on sabotage and a storm that is bent on drenching everything. The justice of the peace is missing. The band will only play covers. The guests are all crazy. And the wedding planner's nephew is unexpectedly, distractingly…cute.

Over the course of three ridiculously chaotic days, Charlie will learn more than she ever expected about the family she thought she knew by heart. And she'll realize that sometimes, trying to keep everything like it was in the past means missing out on the future.
AHHH so this one also gets me so excited for so many reasons. First: Morgan Matson. A queen if I've ever met* one. Her characters are so well developed and her romances super realistic and they always, without a fail, pull at my heartstrings and make me cry and what do I love more than a good cry? Nothing. ALSO, there's a wedding. I love weddings. Almost as much as I love a good cry. And the synopsis even mentions a dog, sooo. She has a good track record with cute dogs in her novels I trust her to follow through with that promise.
*Okay fine, you caught me, READ one.
7. My Plain Jane
Author: Cynthia Hand, Brodi Ashton and Jodi Meadows
Release Date: June 26th
You may think you know the story. After a miserable childhood, penniless orphan Jane Eyre embarks on a new life as a governess at Thornfield Hall. There, she meets one dark, brooding Mr. Rochester. Despite their significant age gap (!) and his uneven temper (!!), they fall in love—and, Reader, she marries him. (!!!)

Or does she?

Prepare for an adventure of Gothic proportions, in which all is not as it seems, a certain gentleman is hiding more than skeletons in his closets, and one orphan Jane Eyre, aspiring author Charlotte Brontë, and supernatural investigator Alexander Blackwood are about to be drawn together on the most epic ghost hunt this side of Wuthering Heights.
My Lady Jane quickly instantaneously jumped onto my favorite books list. First of all, I am a little bit of a history nerd so I love a good historical fiction novel. Second of all, the romance was pretty shippable and we all know I'm for that. Third, there was some magic. Life needs a little magic. There was a booklover, which we all can relate to. But most of all, it was FUNNY. I got pleasure just out of reading the words, not only form the story. These three authors have already proven they are a trio made in heaven when it comes to writing, so I am anxiously awaiting their next book.
8. The Bird and the Blade
Author: Megan Bannen
Release Date: June 5th
As a slave in the Kipchak Khanate, Jinghua has lost everything: her home, her family, her freedom … until she finds herself an unlikely conspirator in the escape of Prince Khalaf and his irascible father as they flee from their enemies across the vast Mongol Empire. On the run, with adversaries on all sides and an endless journey ahead, Jinghua hatches a scheme to use the Kipchaks' exile to return home, a plan that becomes increasingly fraught as her feelings for Khalaf evolve into a hopeless love.

Jinghua's already dicey prospects take a downward turn when Khalaf seeks to restore his kingdom by forging a marriage alliance with Turandokht, the daughter of the Great Khan. As beautiful as she is cunning, Turandokht requires all potential suitors to solve three impossible riddles to win her hand—and if they fail, they die.

Jinghua has kept her own counsel well, but with Khalaf's kingdom—and his very life—on the line, she must reconcile the hard truth of her past with her love for a boy who has no idea what she's capable of … even if it means losing him to the girl who'd sooner take his life than his heart.

THE BIRD AND THE BLADE is a lush, powerful story of life and death, battles and riddles, lies and secrets from debut author Megan Bannen.
Yes hi hello, shameless history nerd here again. THIS TAKES PLACE IN THE MONGOL EMPIRE. What a…violent setting. It seems perfect for the story. And there's some good old fashioned love and escapes and the premise of death. Perfection.
9. Ace of Shades
Author: Amanda Foody
Release Date: April 10th
Welcome to the City of Sin, where casino families reign, gangs infest the streets…
and secrets hide in every shadow.

Enne Salta was raised as a proper young lady, and no lady would willingly visit New Reynes, the so-called City of Sin. But when her mother goes missing, Enne must leave her finishing school—and her reputation—behind to follow her mother's trail to the city where no one survives uncorrupted.

Frightened and alone, her only lead is a name: Levi Glaisyer. Unfortunately, Levi is not the gentleman she expected—he's a street lord and a con man. Levi is also only one payment away from cleaning up a rapidly unraveling investment scam, so he doesn't have time to investigate a woman leading a dangerous double life. Enne's offer of compensation, however, could be the solution to all his problems.

Their search for clues leads them through glamorous casinos, illicit cabarets and into the clutches of a ruthless mafia donna. As Enne unearths an impossible secret about her past, Levi's enemies catch up to them, ensnaring him in a vicious execution game where the players always lose. To save him, Enne will need to surrender herself to the city…

And she'll need to play.
I'm sorry, does this not sound the teensiest bit like SOC to anyone? That's what drew me to it, the promise of sin and mafias and morally gray characters. And the whole synopsis is just so mysterious and glamorous, I guess like SOC with a Gatsby vibe.
Author: Tessa Gratton
Release Date: August 2018
A dark fairy tale for the 21st century.

Every seven years in the town of Three Graces, in exchange for prosperity, the best young man is sent into the Devil's Forest to face the devil and almost always a terrible death, until this year when three teens — two young men and a young woman with their own complicated loyalties, loves, and motives — run into the forest and discover secrets that will turn the town and their hearts inside out.
Magics and secrets and fairy tales, oh my! I also am a sucker for fairy tales. And this one sounds perfectly dark and twisted and delicious. What are these three teens' motives and loyalties and loves? What are the secrets that they discover? Do any of them fall in love with each other? Who is the devil and do any of them meet a terrible death? These are questions that need to be answered now. Might not be able to read this book at night though, because we know I'm a bit wimpy.
And there you have it! Out of all the books coming out in 2018, these are the ones I'm most anticipating. Or just saving up enough money t buy if they already came out.
What books are you most looking forward to? Were any of these on your list? Do you have any 2018 book recommendations for me?