So a couple weeks months some time period ago* I made a post about beautiful book covers and if the story inside lived up to the cover aka if judging a book by its cover is valid. And I think the consensus was basically a tie! Which obviously calls for a part two because there are no ties here !!! Originally I was gonna talk about some aesthetically challenged books and the story within. But then I decided that is kinda #rude and I don't wanna bully the poor little books**. And I've discovered so many other pretty book covers so I wanna share the love!!! Therefore it is another installation with pretty book covers.
*Time is a social construct anyway
**It's not their fault
1. Jennifer E. Smith Book Covers
So I love each one of these covers individually but then I love them even more together (and there's one more cover in this family but I hadn't read the book yet and it didn't fit my graphic so #bye). I love how each one has it's own color and it's like handwriting typography and DOODLES*. I also loved two of these (The Statistical Probability of Love at First Sight and Hello, Goodbye, and Everything in Between), liked one (You are Here), and was meh on the last one (This is What Happy Looks Like). That alone could be my post hahaha. My decision on these books is that generally, the cover predicted the story pretty well. 
*I love doodles
2. Shiver Series by Maggie Stiefvater
I also love all three of these together. Each one is like in one color and I think it's so clever and the use of blood to dot the i is perfect because blood is pretty present (not in a gory way). I already have reviewed the first two books of this series* so you know that I love this series, a tad less than I love The Raven Cycle, but still enjoy reading it. THE CHARACTERS ARE SO ANGSTY AHHH MAGGIE WHY DO YOU ANGST ME LIKE THIS. Covers=accurate. 
(Also I left off Sinner for a reason because it dOESN'T FIT THIS BOOK COVER THEME and I also haven't read it yet).
*and have meant to review the third for MONTHS
3. Matched Series by Ally Condie
So wow this really wasn't intended to be a list of series but I just keep coming across them. Aside from the random backwards R, I really like these covers (and might have picked up the series purely because of them). There's the whole one color thing again* and I like how the girl is breaking out of her bubble slowly in each book cover, mirroring the series. I'm going to be completely honest, I can't for the life of me remember if I read Reached, and I don't remember a ton about the first two as well. So I guess that means the books were meh? I'm going to say covers did not reflect the book well. 
*anyone sensing a theme?????
4. Bittersweet by Sarah Ockler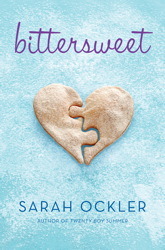 ISN'T THIS BOOK COVER A CUTE LITTLE COVER THAT YOU JUST WANNA EAT UP. Well it LIED because this book is so heartbreaking and angsty!!!!! But also really cute don't get me wrong but this cover looks innocent and harmless and the book pLAYED WITH MY FEELINGS. I DO NOT APPRECIATE. But like it still a good book that I really enjoyed reading so the cover was not misleading in this case. 
5. Outcast by Adrienne Kress
So I actually wrote about this a little bit in my review but while this cover is so gorgeous and has the night sky and stars and silhouette, the book was a grand total of two stars! So nah. 
6. Since You've Been Gone by Morgan Matson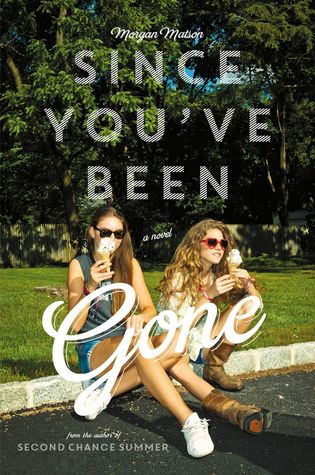 I actually don't usually love people on the cover of my books (I prefer things) but there's something about this cover that just really appeals to me. IT'S JUST SO CUTE. And what a summa* vibe. I think maybe because the people are further away? And not even the focus of the cover? AND I LOVE LOVE LOVE THIS STORY MORGAN MATSON IS QUEEN AT WRITING CONTEMPORARIES.
*Yeah, I just wrote summa. No hate.
7. All the Bright Places by Jennifer Niven
Covers that have hidden meanings are my favoriteeeeeeeeee. Sticky notes play a role in this story so it automatically elevated my opinion of the cover. But I also it for its simplicity. The title is just written in black, it uses only three or four covers, and relies more on the placement of everything than what is being used. And I think this book was kinda controversial, with people either loving it or hating it, but I personally really loved this story. It was tear jerking, heartbreaking, and so beautifully written. Trust the cover on this one!
8. Proof of Forever by Lexa Hillyer
So I just think this cover is wicked cool? It uses handwriting typography again (my love) and the pictures inside the infinity symbol is so cute and also fits the story really well. The story itself was an unexpected joy. It's about four girls who were best friends growing up and one year suddenly stopped, and why they all stopped being friends. It's told from mostly flashbacks and all four girls' perspectives, so you learn to love each of them. And then they find their way back to each other again, which is so heartwarming. And it's told at camp, so any girl that loved going to sleep away camp will get major feels reading this (I know I pictured my camp as the setting). The cover was right on this one!
9. The Law of Moses by Amy Harmon
This cover is so. cool. It has a whole hazy feel to it and like what's happening. And then the font is so perfect I love how it is simple yet elegant, which fits her writing style perfectly. And while I don't usually like faces, the shape of the face in the background is kinda ambiguous and not fully there, so I like it. Amy Harmon is an author I don't hear enough about. Her books are kinda Christian but they focus on the more spiritual elements of it and less Jesus elements, so it doesn't feel like religion is being forced down your throat, you know? And her writing style is beautiful. Each one of her books breaks me down like they hit me in a special place. This one is actually part of a series but, I mean, it is just heartbreaking. So well written and such developed characters, and so so beautiful. Trust the cover! 
10. The Illuminae Files by Amie Kaufman and Jay Kristof
I LOVE THESE COVERS MORE THAN LIFE ITSELF. I'm trying to formulate words to describe my love and I just cannot I'm simultaneously speechless and rambling. Like the colors and the font and the whole broken documents thing going on and the space. THE SPACE. And don't even get me started on the story. TBH I've only actually read Illuminae (you can read my sobbing here) but I'm convinced I'll love Gemina and Obsidio as well. LET THE COVERS GUIDE YOU. 
I love this post because it gives me an excuse to be vain. But it's super funny because on the last post it was basically split between good books and bad books with gorgeous covers, this post has 8 good books and only 2 bad books where the cover did not accurately reflect the story. That means that I have officially validated judging books by their cover. Because this was totally a valid science experiment to make that type of conclusion. You're welcome.
Which book covers are you favorite? Do you generally find that judging a book by its cover is accurate or not?