HECK YES! Stationary is my one true love*. School supply shopping is my favorite part of the school year because STATIONARY. Thank you to the lovely and amazing Beth @ Reading Every Night for tagging me in this! If you don't already follow Beth, check her out- her reviews are great, her discussion posts are interesting, and she is superrrr sweet.
*Besides books…and FRIENDS… and my actual real life friends… and my family… and sHUT UP SYDNEY YOU'RE RUINING THIS
Thank the creator; Sam @ River Moose Books
Answer the questions
Add pictures (if you want to)
Tag about five people
Favorite Middle Grade or Children's Book
Just a quick little list for ya because we all know Sydney can't choose favorites.
Anne of Green Gables
Magic Tree House!
Little House in the Big Woods
Percy Jackson and the Olympians
---
A Basic Staple For Any Reader
I agree with Beth that there isn't such thing as one basic staple. All readers have different tastes and nothing can please everyone. But one book I always recommend to everybody, no matter what they like to read, is The Book Thief by Markus Zusak. This book is written beautifully and tells such a heartbreaking and good story.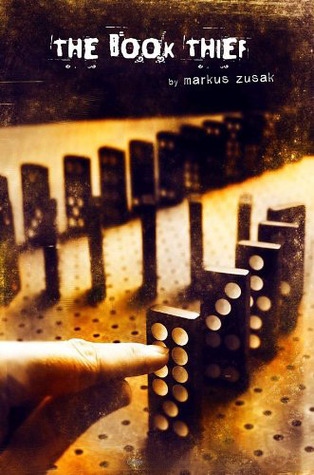 ---
What Books Do You Own Multiple Copies Of?
 I actually am not one of those readers that buys multiple copies of a book because it's my favorite(s) or has a new cover. I prefer to save my money to buy new books*. But the only books I have multiple copies of are The Starbound Trilogy. I originally bought them in eBook form, but then a couple years later I decided they are too pretty not to have in physical form, so I bought them in hardcover and #noregrets
*Hahahahahaha I'm cheating the system
---
A Book With A Beautiful Cover
Hmmmm, there are so SO many! One of my favorites is the cover of The Sun is Also A Star by Nicola Yoon. I love all the colors and how it makes sue of negative space.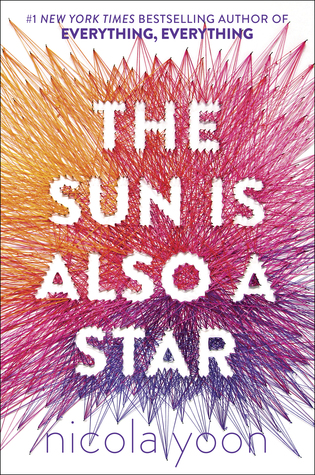 ---
Two Characters That Work Well Together Even If They Aren't Together
I love Nina and Inej from Six of Crows together. There friendship was one of the most heartwarming parts of the books, and I love how they support each other. Also, these two girls are #deadly together and I would be terrified if they wanted to kill me.
I also love Blue and Ronan from The Raven Cycle, specifically from Blue Lily, Lily Blue. I feel like the two of them get each other on a deeper level than the others. Even though they are at odds with each other most of the time, when they work together, they really work.
Ooh and lastly Finn and Sofia from The Starbound Trilogy. Their friendship is so genuine and the "no questions asked" type. Even though we don't get to see them in action together a ton, what we do see and what their flashbacks show is that they work well together.
---
What Book Would You Like to Destroy?
Taking Chances by Molly McAdams. This is the only book I think I actively hate. The entire plot is a love triangle ! And the girl chooses THE WRONG one ! And the author completely takes the easy way out by KILLING ONE OF THE LOVE INTERESTS (the better one btw)*
*Sorry not sorry for spoiling this…I'm just hoping you all have better taste than me and never read this book.
---
What Complete Series Do You Own?
Basically all the series I own are complete series, and if not, I'm most likely working towards completing them. I'm just going to name my not complete series because that's a lot quicker.
The Wolves of Mercy Falls- I thought I had the complete series until i found out that Maggie wrote a FOURTH book about Cole *insert heart eyes here* and I haven't yet bought it.
The Raven Cycle- BUT DO NOT FRET. Because I have ordered The Raven King and is is coming sometime in September which is SO SOON and then you will all have to deal with my fangirling/sobbing because IT WILL BE OVER AND CAN I HANDLE THAT?
The Lunar Chronicles- AGH I really want to complete this series! Only two (four?) more books to go!
The Firebird Trilogy- So this might be one series I'm not planning on completing…oops? I really don't like Marguerite BUT the second book left off at a cliffhanger and idk if I can handle not knowing the end for the rest of my days.
That's actually a lot of series I don't own the complete set of but I promise you, I DO ACTUALLY OWN COMPLETE SERIES. And a lot of them!
---
Show Us Your Desk/Stationary That You Own For Each Question
Soooo….of course this is the one time I'm not writing my blog posts at my desk in my room, but rather downstairs. And I am just wayyyyy too lazy to walk upstairs and take a picture of my desk. But I am including this question so if I tag you and you're a less sucky person than me you can take a picture of your stationary!
And I tag…
Jenna @ Bookmark Your Thoughts || Hannah @ Peanut Butter and Books || Charlotte Annelise ||  Lia @ Lost in a Story
…and you! If you want to!