It's time for this week's Standalone Sunday! Standalone Sunday is a weekly meme created by Megan @ Book Slayer Reads to feature books not part of a series that you've either read or want to read. It's super fun and easy to join in.
Things We Know By Heart by Jessi Kirby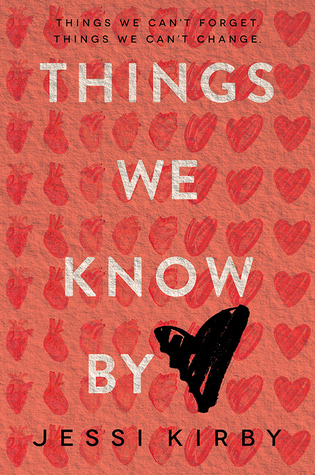 When Quinn Sullivan meets the recipient of her boyfriend's donated heart, the two form an unexpected connection.
After Quinn loses her boyfriend, Trent, in an accident their junior year, she reaches out to the recipients of his donated organs in hopes of picking up the pieces of her now-unrecognizable life. She hears back from some of them, but the person who received Trent's heart has remained silent. The essence of a person, she has always believed, is in the heart. If she finds Trent's, then maybe she can have peace once and for all.
Risking everything in order to finally lay her memories to rest, Quinn goes outside the system to track down nineteen-year-old Colton Thomas—a guy whose life has been forever changed by this priceless gift. But what starts as an accidental run-in quickly develops into more, sparking an undeniable attraction. She doesn't want to give in to it—especially since he has no idea how they're connected—but their time together has made Quinn feel alive again. No matter how hard she's falling for Colton, each beat of his heart reminds her of all she's lost…and all that remains at stake.
Idk, this book has a basic YA romance formula, but it's also different. I mean, this is the only time I've ever read a book where the love interest has the heart of the main character's deceased boyfriend. It lends a whole another layer to the story. I also just have a soft spot for books where characters deal with tragedies and loss, because that happens to everyone and there's no escaping it. Both characters are dealing with something, but find that their love helps them conquer their hardships, which I think is a nice message. And, the family dynamics here are strong, especially between Colton and his sister. So if you're looking for a basic contemporary romance with a bit of something more, this is a good book for you. I wouldn't say its spectacular or amazing or breathtaking, but it is a solid book and sometimes you're in the mood for a little cheese 😛
Nowwww, my mini hiatus announcement. Emphasis on MINI. I will be traveling the next couple of weeks, with limited access to wifi, so sadly my blogging will have to take a little break. Hopefully you won't miss me too much, though, because I have a ton of posts scheduled while I'm gone. The main thing is I won't be able to comment on posts or like other posts or respond to comments while I'm away, but I'll still be auto blogging. But I just thought I should let you all know so it isn't a total surprise when I become a ghost follower for a couple weeks.
And that's it! Have a fantastic next couple of weeks!