How's your week been? Mine's been pretty hectic but great. Haven't been too productive (so much summer schoolwork and I haven't started any of it) but I am writing this post so.
It's time for this week's Standalone Sunday! Standalone Sunday is a weekly meme created by Megan @ Book Slayer Reads to feature books not part of a series that you've either read or want to read. It's super fun and easy to join in.
I think it's impossible for me to do any sort of blog post (that isn't a review) and not mention Morgan Matson. Her books are just perfect, this one included.
Since You've Been Gone by Morgan Matson
It was Sloane who yanked Emily out of her shell and made life 100% interesting. But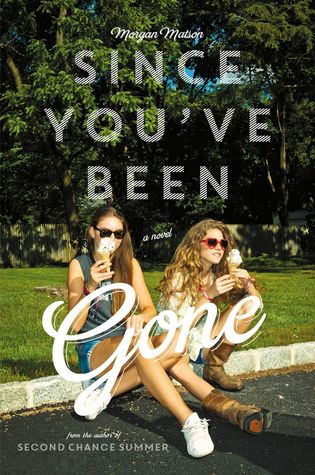 right before what should have been the most epic summer, Sloane just…disappears. All she leaves behind is a to-do list.
On it, thirteen Sloane-inspired tasks that Emily would normally never try. But what if they could bring her best friend back?
Apple picking at night? Okay, easy enough.
Dance until dawn? Sure. Why not?
Kiss a stranger? Um…
Emily now has this unexpected summer, and the help of Frank Porter (totally unexpected), to check things off Sloane's list. Who knows what she'll find?
Go skinny-dipping? Wait…what?
One of the reasons I love this book so much is because Emily gets to live the ideal summer, in my opinion. She has this wild nights and weird adventures where she feels completely reckless, makes new friends, and falls in love. What else could you want from summer? Also, her and Frank's relationship feels so natural from the beginning, and there is zero insta-love. The only thing I hate/love is the classic Morgan Matson ending where it isn't absolutely clear that everything turns out okay but it is implied. And her and Sloane's friendship makes me hurt, but it is also so cute and I love it (although Sloane's life is funky). But all in all, a great read, and a perfect summery read as well.
Have you read this book? Which Morgan Matson book is your favorite? What is your perfect summer read?