So once again, I'm super late on a tag, but Lia @ Lost in a Story tagged me in this about a month ago, so thank you! Her blog is so gorgeous and really well written, so I recommend you check it out. Books and music are two important things in my life, so I'm so excited to begin! I'm just going to warn you ahead of time, I tend to like to slow love songs, but I've tried to mix it up for the sake of this tag. Also, my connections between the songs and books don't make a ton of sense, but stick with me.
Tag the creator of this tag (Debbie @ Debbie's Library) and the person who tagged you
Pick 5 songs (or more) that you just have to listen to whenever they are played
Pick the books or characters that you think fit that song the best, and explain why you picked those books or characters
Tag some friends!
Galway Girl- Ed Sheeran
"You know, she played the fiddle in an Irish band
But she fell in love with an English man
Kissed her on the neck and then I took her by the hand
Said, 'Baby, I just want to dance'
With my pretty little Galway Girl
You're my pretty little Galway Girl"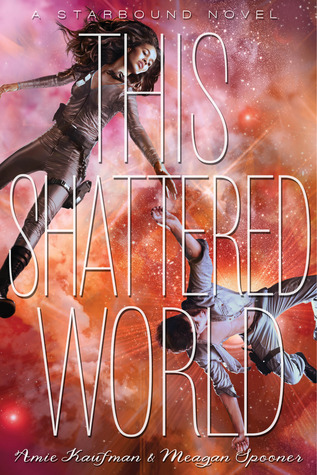 So this song has such a great little Irish beat, and even though it doesn't make a ton of sense, every time I listen to this song (which is a lot), I am reminded of This Shattered World by Amie Kaufman and Meagan Spooner. The planet Finn and Lee are on has a lot of Irish roots, which is one of the reasons. Also, their original meeting is somehow related to a bar, I can't totally remember why, and Ed Sheeran meets his Galway Girl at a bar. And lastly, the English and the Irish have a long history of conflict, and Finn and Lee were on opposite sides of a war on the planet, yet both pairs still fell in love.
Link to song here.
Don't Stop Believin'- Journey
"Just a small town girl, living in a lonely world
She took the midnight train going anywhere
Just a city boy, born and raised in South Detroit
He took the midnight train going anywhere"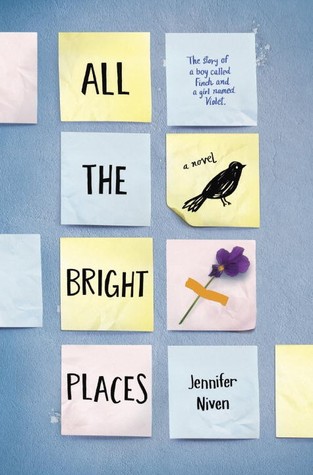 This classic reminds me of All the Bright Places by Jennifer Niven. As the song begins, there is a girl and a boy, both lost and unsure of where they are heading. Both of them are floundering, searching for something to believe in and some hope to hold onto. This is similar to Violet and Finch, both two lost souls, who, when they found each other, had, for some time, something else to believe in. It gave both of them something resembling hope. Also, the tones of the song and the book are similar. No one would call All the Bright Places a happy book, nor "Don't Stop Believin'" a happy song. But both have some optimistic and hopeful undertones.
Link to song here.
Fix You- Coldplay
"When you try your best but you don't succeed
When you get what you want but not what you need
When you feel so tired but you can't sleep
Stuck in reverse

When the tears come streaming down your face
When you lose something you can't replace
When you love someone but it goes to waste
Could it be worse?"
Side note, I love this song with all my heart. It is the perfect song to listen to if you're sad, and I honestly just can't express my love for it. But anyway, I think this song reminds me of Thirteen Reasons Why by Jay Asher, specifically Clay. And before anyone gets mad, no, not because I think Clay wants to "fix" Hannah or anything like that. I think this song actually describes Clay pretty well. He loved Hannah but lost her, and thinks he wants to know why she committed suicide. But as he's listening to her tapes, it affects him very profoundly. In the book, he listens to all the tapes in one night, restless. He can never replace Hannah, but like the end of the song says, he wants to prevent this from happening again, which is what the last chapter of the book is.
Link to song here.
I Will Follow You Into the Dark- Death Cab for Cutie
"Love of mine
Someday you will die
But I'll be close behind
I'll follow you into the dark
No blinding light
Or tunnels, to gates of white
Just our hands clasped so tight
Waiting for the hint of a spark"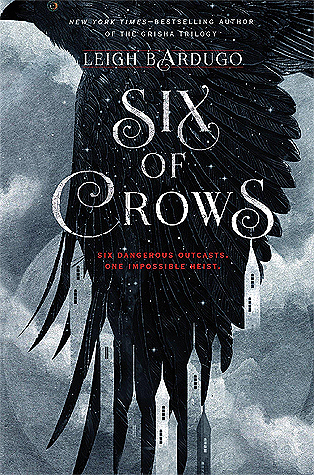 So this song is basically a love song, but darker and more haunting. As I was listening to it, I was reminded of Nina and Matthias from Six of Crows by Leigh Bardugo. Second side note, they are one of my favorite ships! Okay, but anyway, as I said earlier, this is a love song, so I could've chosen so many love stories to connect it to, but none of the fluffy ones fit the mood of the song. It's slower, and the singer has a bit of a haunting voice, and he's singing about death. This seems to perfectly fit Nina and Matthias' relationship. They passionately loved each other, but death was always looming over them, and their love wasn't a cutesy, fluffy romance.
Link to song here.
A Little Too Much- Shawn Mendes
"She would not show that she was afraid
But being and feeling alone was too much to face
Though everyone said that she was so strong
What they didn't know is that she could barely carry on

But that she knew that she would be okay
So she didn't let it get in her way

Sometimes, it all gets a little too much
But you gotta realize that soon the fog will clear up
And you don't have to be afraid, because we're all the same
And we know that sometimes it all gets a little too much"
So I promise, I'm not actually a huge Shawn Mendes fan, but this song perfectly understands me when I'm feeling very anxious and overwhelmed. And I'm cheating a little by quoting half the song, but this song reminds me a lot of Amelia from The Bright Effect by Autumn Doughton and Erica Cope. I'm not actually sure if it relates that much, but she's just what I think of when I think of this song. Amelia just takes on so much, and doesn't say no, just puts her head down and plows through. She gets overwhelmed, and I think this song would calm her just like it calms me.  Also, when we get to the plot twist, it really does all become too much, and she can't deal with it all anymore.
Link to song here.
Since I think this tag has been out for a little while, I'm only going to tag a couple people. If you've already done it, I'm sorry! And if you haven't done it yet but want to, consider yourself tagged!
Mandy @ Book Princess Reviews||Shanah @ Bionic Book Worm||Ryann @ Ryann the Reader||Lilly @ Lair of Books